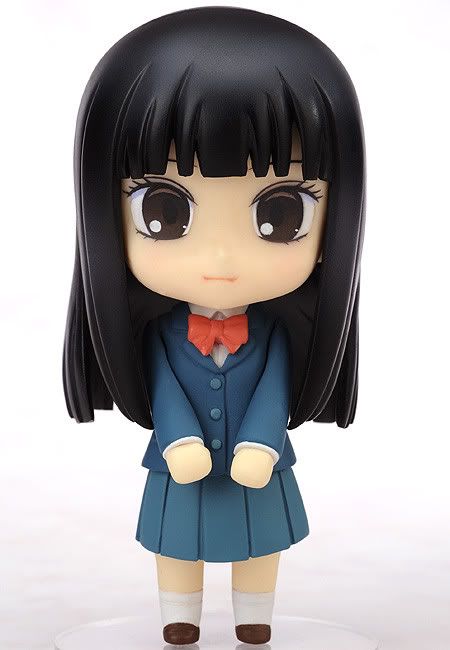 OMG. I can't believe this version of Nendoroid is coming out soon. Instant buy for me. I'm a big fan of Kimi ni Todoke. The Nendoroid is Kuronuma Sawako from the anime/manga series Kimi ni Todoke. It was announced officially by GSC. Here is the description from the official page:
[box type="info"]The shy yet always honest girl. From the popular manga and anime series 'Kimi ni Todoke' comes a Nendoroid of the ever-positive main character from the series, Sawako Kuronuma! She comes with her standard expression as well as a embarrassed expression perfect to show off her shy personality – plus she comes with two different 'joke' faces from the series, both a happy version and a thinking version. Shota Kazehaya's dog, Maru-chan, is also included, giving you a load of variety to recreate scenes from the series![/box]
4 faceplates (including the standard/default one), a dog, and a couple of usual body parts and accessories are included in the package. The Phat Company's Nendoroid is scheduled for August release and is priced at 3000 Yen. Personally, I think this Nendoroid … umm … does not look like a Nendoroid. I mean, her expression looks really different compared to the other Nendoroid in general. How about you? What do you think about Nendoroid Kuronuma Sawako?

[Pre-order here]